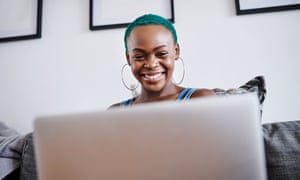 Lockdown has meant that the majority of customer interactions are occurring away from physical spaces.
Photograph: LaylaBird/Getty Images
For Kirby Bryant, the latest lockdown feels different from the first. For most of the 16 years she has run Cambridge Wine Royston, in Hertfordshire, Bryant saw e-commerce as directly conflicting with being local. But at the start of the Covid pandemic, she added a simple price list to the shop's social media pages and invited orders by phone. She was promptly inundated "to the point where we had to unplug the connection".
Since then, Bryant and her team have not only developed a simple website but have invested in connecting with customers via social media, email and phone, alongside other forms of remote interaction such as virtual tasting events. "The pandemic dragged us into the 21st century," she says.
From local businesses such as Bryant's all the way to corporate giants, the pandemic is creating a digital-first world in which the majority of customer interactions are occurring away from physical spaces. As screen time sharply rises and in-store visits fall, customer behaviour is rapidly changing – and customer service teams have had to flex and embrace new ways of working, often under greater pressure than ever before.
The latest annual Customer Experience Trends report from the customer service software company Zendesk found that the number of weekly support requests from customers has increased by 20% since the start of the pandemic. The report, compiled using insights from 90,000 companies across 175 countries, says that customers want quick and easy online transactions (65%) but they also want businesses to show they care. In all, 49% say they want agents to be empathetic, and one bad experience is enough for 50% of customers to switch to a competitor. All this at a time when teams themselves are working remotely and, in many cases, integrating new technology or processes to meet their customers' needs.
"[Customer expectations] are more demanding than in the past, most definitely," says Steven Van Belleghem, a customer experience and marketing expert, and author of The Offer You Can't Refuse. "Digital convenience has become the norm. If you have it, people think it's the most natural thing in the world. If you don't have it, you're in deep trouble. The better you understand the emotional needs of the human behind the customer, the better you can create services that help them. This is not about transactional optimisation – it's about emotional optimisation."
Jo Causon, chief executive of the Institute of Customer Service, agrees. The institute's most recent UK customer satisfaction index suggests that satisfaction has remained flat over the past year, with some organisations and industries faring better than others. "Having well-trained customer service operatives who have high emotional intelligence is really important," she says, adding that, at these times, customers are looking for reassurance. "Where organisations have offered advice, guidance and support, something more akin to servicing rather than selling, they've done well."
In Plymouth, the customer service team at the online builders' merchant CmoStores.com has really taken that to heart. Demand has rocketed during the pandemic, particularly among DIY-ers who will often need advice before making a purchase. The company has almost doubled the size of its customer service team (from 30 to 55), redesigned the phone system's interactive voice response to help connect customers to the right specialist more quickly, upgraded the live chat options on its website, and allocated agents to work exclusively on email and chat enquiries. It also introduced a new AI product recommender, which has made it easier for customers to find the right items for their projects.
"What we've been trying to do is respond much better to the customers' needs and take frustration out of the equation," says managing director Sue Packer. "It's a much calmer business now than it was during the first lockdown. We don't expect people to fight through 75,000 products to work out what's right for them. Compared to last year, we've moved on hugely from 'how can we get hold of that product for you?' to 'how can we help?' in a much more rounded fashion."
How Novel, the online literary brand, doesn't offer customer service help over the phone, but having the right technology in place – particularly a live chatbot on the website – has enabled the team of seven to scale up their support capacity significantly.
"We've not had to take on any temporary customer service staff during Christmas, even though we tripled support requests," says Ben Johns, managing director of the Manchester-based company, which offers everything from mystery books to subscriptions and reading gifts. "A lot of the requests are dealt with before they even get to a person. It's made us a lot more efficient as a team. Initially our support workflow was something that came in via email, it got forwarded to somebody to deal with, was sent via Slack, or shouted across the office. We're now spending much less time on customer support but still providing that personal service, even as we grow."
The pandemic has undoubtedly accelerated digital adoption, and highlighted the importance of flexibility across all aspects of a business. But whether an organisation's service team is connecting with customers using automation, messaging or the phone, Causon says it's important to understand and acknowledge the challenges they're facing.
"Knowing and caring about your customer is really important. Be transparent, honest, and curious about how you can help. How you make me feel as a customer will be what I remember. It's a great time for organisations to really differentiate on their service experience, whether that's online or offline."
The world has changed – and your customers' experience needs to change with it. To navigate this challenging landscape and champion good customer service, visit Zendesk.