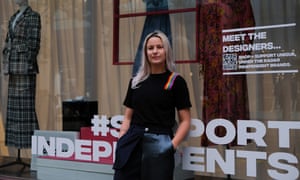 Rebecca Morter, CEO of the Lone Design Club: 'We can ask customers directly: "How can I give you the best experience?"'
It might seem an odd time to launch a travel company, but Cat Jones, founder of Byway, a startup championing flight-free holidays, says it is actually turning out to be the right time. "With so much grounded, it's almost been like a grand experiment in what happens if you don't fly. There have been a lot of people keen to do more of this sort of travelling."
Key to Jones's vision is the personalised customer support she and her team provide through WhatsApp. Most of the trips so far have been in the UK but, even so, the team has been hard at work keeping customers updated in the light of ever-changing local restrictions and closures.
"We've been doing an awful lot of proactive pre-trip reconfiguration," she says about reorganising itineraries. "People feel like there's a safety net where someone really knows what's going on, someone who's keeping on top of the restrictions and will adjust the trip accordingly. We ran [WhatsApp messaging] as a bit of an experiment but we've actually found it much more popular than the phone."
This is borne out by the latest annual Customer Experiences Trends report from Zendesk, the customer service software company, which has insights from 90,000 companies across 175 countries. The pandemic has seen a surge in the use of messaging platforms, with 26% of those surveyed trying them for the first time. WhatsApp use was up 101%, and Facebook and Twitter messaging has increased by an average of 58%. Conversely, email contacts have only increased by 12%, and the number of phone calls has decreased by 6%. In November, Zendesk announced its strategic partnership with WhatsApp, enabling its customer relationship management users to engage with customers across WhatsApp, Instagram and Facebook messaging services.
"About 2.7 billion people are expected to use a messaging app by the end of this year," says Adrian McDermott, president of products at Zendesk. "There's been this trend towards using messaging in our personal lives to interact. Email has gone from being an incredible tool that connected people, to being a noisy mess and the quality of the conversation is lost. Messaging takes us back to quality, it takes us back to connection."
McDermott says embracing messaging tools allows entrepreneurs to connect with people on their own terms on their platform of choice. "From a small business point of view, you have more control with messaging, which can be more authentic and convenient. It can fit in with the workload of small businesses, which often don't have dedicated customer service teams. It requires a much smaller investment for businesses to make that connection."
That authenticity is important to small businesses such as the Lone Design Club, an omnichannel retailer that champions independent, ethical designers and conscious shopping. "We had been really focused on the physical side of the business," says CEO Rebecca Morter, of the company's pop-up concept stores, which had to shut due to the Covid pandemic. "One of the biggest challenges for us has been being able to create a meaningful relationship between a customer and a designer online."
Tools such as Instagram, Facebook and WhatsApp have helped the transition, Morter says, alongside shop window displays that allow passers-by to scan QR codes to get a closer look at the featured clothes and jewellery, read about a designer, or send a question with the tap of a button. "We have customers messaging us: 'Oh I'm just outside your shop window and I really love this dress,'" she says. "WhatsApp is so much more personal. I think people really want that human connection."
Lone Design Club also runs a weekly Shop the Club live event on IGTV, a video application by Instagram, where questions about products can be answered in real time. "It shows we're genuine humans, communicating, and trying to make shopping a better process," says Morter. "People are shopping less often but spending more when they do it, and they want that quality, meaningful experience. It's not so transactional any more." The customer service team likes having that interaction with customers too, she adds. "It's more rewarding for them. And every person they speak to is a qualitative bit of research. We can ask customers directly: 'How can I give you the best experience?'"
Byway is also active on Instagram and Facebook, and is busy collecting customer feedback via WhatsApp. "It's almost a bigger barrier to make a phone call than it is to send a message, so people are pinging us with really small tips and questions all the time," says Jones. One unexpected plus is the way the platform has proved a hit with solo travellers. "I think it feels like we're there enjoying their holiday with them. It's that little bit of extra connectedness that seems to have become a big selling point."
The world has changed – and your customers' experience needs to change with it. To navigate this challenging landscape and champion good customer service, visit Zendesk.