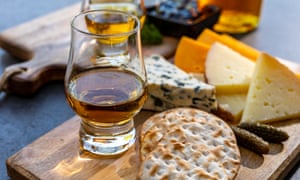 A fruity single malt perfectly complements a good cheese board.
Photograph: barmalini/Getty Images/iStockphoto
Think of single malt, and you'll likely conjure images of crackling fires, leather armchairs and a good dose of tweed. But its reputation as a drink to be served solely in wood-panelled dining rooms does this versatile tipple a huge disservice.
There are a surprising number of different flavours to be found when choosing a single malt – fruity and floral, warm honey and spice, earthy or even a taste of the sea. It means that, far from being a niche or difficult drink, there's a style of single malt out there for everyone. It's the perfect match for a huge range of foods, and a great choice for many more drinking occasions than simply cosying up on cold nights.
"No other distilled alcohol has the same versatility in terms of the wide variety of taste, and people often don't appreciate just how many different whiskies there are out there," says Rachel McCormack, host of the Double Scotch podcast. "They might think they don't like whisky, perhaps because they first tried it when they were younger, and whisky is an 'adult' drink. But it usually turns out that they just haven't found the one they like."
And it's thanks to this versatility that single malt matches surprisingly well with a wide range of foods beyond its usual pairings of dark chocolate, smoked salmon or red meats. "In India, they generally drink whisky and soda with curry, and I think we should too," says McCormack. "Curry brings out the softer flavours in whisky, and vice versa – you can quickly see this effect by having some whisky with a wasabi pea. "It's also much better with cheese than just about any other drink. It's a clearer, cleaner taste, and not so sweet. A fruity whisky like The Glenlivet would be great with a good cheddar. Just make sure you match quality with quality."
Gemma Damen, who writes about whisky at whatsinmytumbler.com, is an enthusiastic experimental food-pairer. "Ibérico ham, which is salty, smokey and oily, combines really nicely with whisky," she says. "I also like to drink whisky with hayashi rice, which is a delicious, sweet Japanese stew."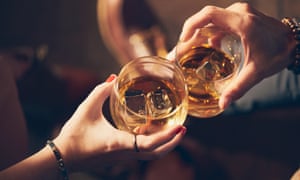 Be it with food, music or friends, single malt makes a fine partner. Photograph: Age Barros/Getty Images/iStockphoto
It's the versatility of The Glenlivet that enables it to marry so well with a wide range of dishes, be they classic or specialist. The Glenlivet 12 Year Old, for instance, pairs as beautifully with seared scallops as it does with Damen's plate of ibérico ham. The zesty, creamy flavours of The Glenlivet Founder's Reserve make it a smooth accompaniment for that hayashi rice as much as they would for a light salmon dish, while the toffee notes and tropical fruit flavours of The Glenlivet Caribbean Reserve take particularly well to washing down spicy food such as curries.
But there's more to it than just food (even though that is extremely important). Choosing single malt in a variety of places and on different occasions might even help you find your match. "When you ask someone about their favourite whisky, they'll always say it's about time and place," says Alex Robertson, The Glenlivet's head of heritage and education. "That's what brings the character of single malt alive, whether you're drinking the delicate The Glenlivet 12 during the summer, or The Glenlivet 18 after dinner."
"In my opinion, there aren't many occasions when you couldn't drink whisky," adds Damen. "One of my favourite whisky memories was in Bali. The air there has a certain fragrance, of smoke and heat and incense, so I cracked open the bottle I'd brought with me by the pool, and enjoyed it with my feet in the water. It was so relaxing – a delicate whisky is perfect for those occasions."
It can even be paired with poetry and music. Robertson organises sonic whisky tastings – where music, chocolate and single malts are matched to bring out different flavours from bitter to sweet. "Try it in different environments, with different music, and with different food," he says. "It's a great opportunity to re-evaluate your view of scotch whisky."
Likewise, many of McCormack's podcast guests are fans of pairing whisky with their favourite records. "Ian Rankin talked about some different whiskies, and paired them with late-night jazz, Gaelic singing and John Martin," she says. "It's nice playing records, and nice having a whisky, so of course they go together."
So next time you're out for a meal, listening to music or celebrating with friends, instead of reaching for a bottle of beer or your usual spirit, think about trying single malt instead. It could make a world of difference.
The Glenlivet is the original Speyside single malt, setting new standards since 1824. Explore the range here



Please drink The Glenlivet responsibly. For the facts, visit drinkaware.co.uk