Given the era, it's likely that no one asked the orphans whether they wanted to participate—and some seemed too young to consent anyway. They'd been abandoned by their parents, were living in institutions, and had no power to resist. But the Spanish king, Carlos IV, decided to make them a few promises: They would be stuffed with food on the voyage over to make sure they looked hearty and hale upon arrival. After all, no one would want lymph from the arm of a sickly child. Appearance mattered. And they'd get a free education in the colonies, plus the chance at a new life there with an adoptive family. It was a far better shake than they'd get in Spain.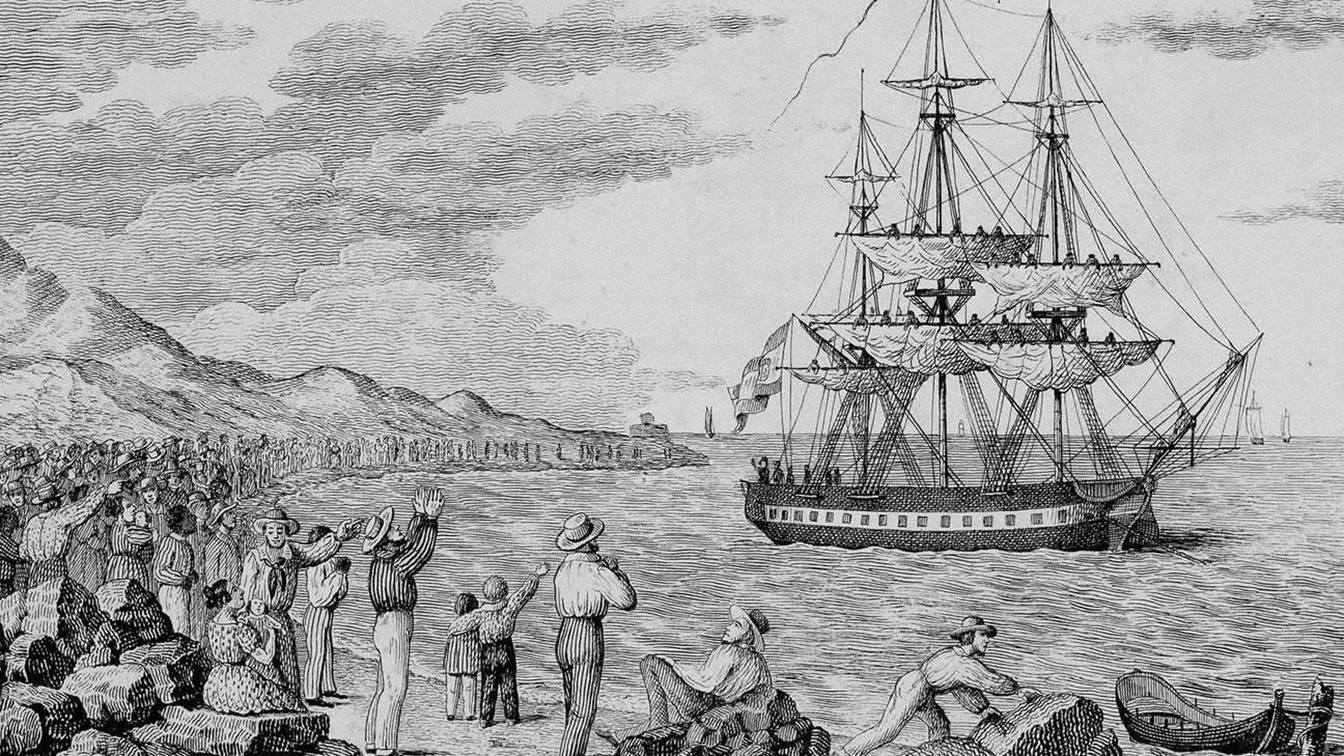 When Balmis's crew started vaccinated people in the Americas, cathedral bells rang, priests said Masses of thanksgiving, and people shot off fireworks and held bullfights in their honor. (Lithography De Manini)
The Royal Philanthropic Vaccine Expedition finally set sail in November 1803. Twenty-two orphans, ages 3 to 9, made the journey, accompanied by lead doctor Francisco Xavier de Balmis, his team of assistants, and Isabel Zendal Gómez, the head of the boys' orphanage, who would care and comfort them.
Despite all the careful planning, the expedition nearly failed. When the ship arrived in modern-day Caracas, Venezuela, in March 1804, just a single sore was left on the arm of a single boy. But it was enough. Balmis immediately started vaccinating onshore, focusing on children, who were most susceptible to smallpox. By some accounts, Balmis and his team vaccinated 12,000 people in two months.
From Caracas, Balmis's crew split into two parties. His top deputy, Jóse Salvany Lleopart, led one expedition down into what's now Colombia, Ecuador, Peru, and Bolivia. The journey was rugged, through thick jungles and over the forbidding Andes Mountains. Still, over the next few years they managed to vaccinate upwards of 200,000 people. Many villages greeted them as saviors. Cathedral bells rang, priests said Masses of thanksgiving, and people shot off fireworks and held bullfights in their honor.
Meanwhile, Balmis marched up through Mexico, where he vaccinated on the order of 100,000 more people. Midway through the journey, he dropped off the orphans with their new families in Mexico City. Then he headed to Acapulco to prepare for another vaccine expedition, this time to Spanish colonies in the Philippines. He picked up a few dozen more boys in the town, but instead of finding orphans, he hired boys from various families, essentially renting them as vaccine mules for the journey to Asia.
The ship arrived in the Philippines on April 15, 1805, and within a few months, Balmis's team had vaccinated 20,000 people. The expedition was so successful, in fact, that Balmis went rogue and sailed to China in the fall of 1805 to vaccinate people there. The achievement was staggering: Without any modern equipment or transportation, Balmis's team managed to spread Jenner's vaccine across the world in less than a decade, vaccinating hundreds of thousands of people and saving perhaps millions of lives.